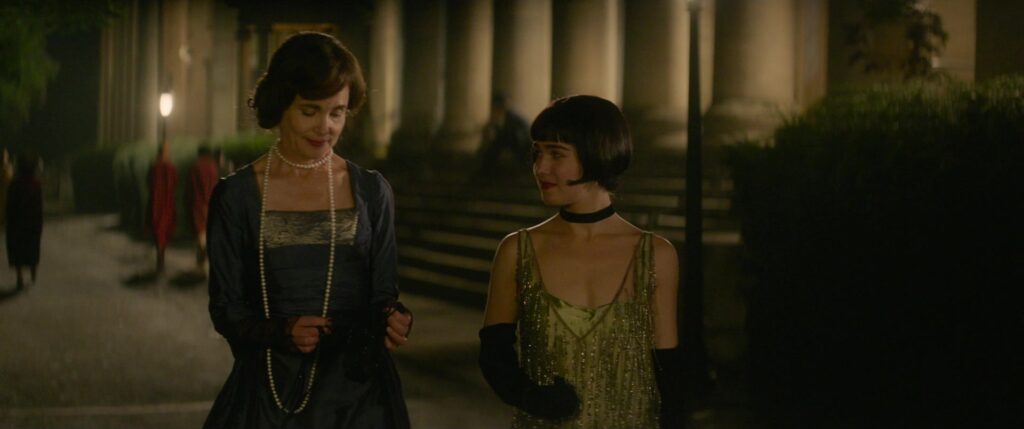 An aging and restless orphan, Norma, finds an opportunity to seek out the family and life she never knew when she agrees to escort young (future star) Louise Brooks to study at a prestigious dance academy. While Louise dances by day, Norma follows a 40 year old paper trail to discover who she really is in this coming of middle-age tale.
This movie is a work of historic fiction. It uses real life people, places, and events while weaving an original tale around them. Here, the early aspirations and joie de vivre of the somewhat tragic figure in real life Louise Brooks are contrasted with Norma's lack of ambition, uptight propriety, and unfortunate youth.

Elizabeth McGovern (She's Having a Baby, The Favor) stars as Norma Carlisle, who was orphaned as a small child when was taken from New York via train to Wichita and adopted by farmers. She grew up, married a successful local lawyer, and with the deaths of her adoptive parents, seeks answers surrounding her birth parents and circumstances of her orphaning.

Upon overhearing Myra Brooks saying that she would be unable to accompany her promising daughter Louise to New York to attend the Denishawn School of Dance, Norma volunteers her services as a chaperone. Myra accepts the offer and with a stern warning from Norma's husband not to go picking the scab of an old wound, Norma disembarks with Louise in tow. On the train, Norma gets her first taste of the alluring 16 year old Louise's outlandish flaunting of convention and willingness to flirt with (much) older men. This sets the tone for the rest of the film, as Norma must contend with an out-of-control burgeoning starlet with a habit of slipping her leash while coming to terms with the emotional baggage of her own unraveling life.
The film doesn't really focus on Louise, played here by Haley Lu Richardson, as much as it uses her as a soundboard. Norma's adherence to convention plays a big part in why she's unhappy with her life. Louise, by contrast, is a libertine who questions and mocks these customs. As Norma comes to accept the things in her life, she begins to take inspiration from Louise, accepting what she cannot change and seeking happiness despite it. But as we go, the curtain is peeled back on Louise, revealing that her affluent upbringing harbors dark secrets that shaped her attitudes and would ultimately undermine her real world success.
The screen is filled with heartache, but only revealing how and why as the onion is peeled away layer by layer. Yet throughout the story, we're given reason for hope through the shifting attitudes of characters determined to not be defined by the circumstances from which they came, or even where they are standing. McGovern handles these seasons with the competence you would expect from someone with 40 years of screen work.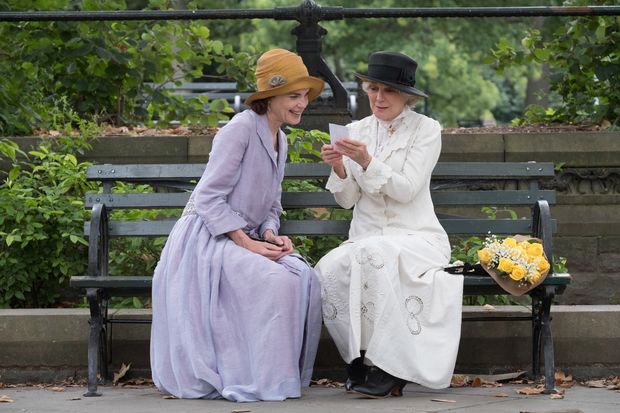 Through the intro and epilogue wrapper, we are given a glimpse of a burned out and hopeless Louise. Yet even here the thread of hope foreshadows that the actress would get a second wind, not as a dancer or film star, but eventually as a writer and historian, as well as Hollywood's most iconic muse.

Being a period piece, the movie is lit perpetually with warm orange light, giving the film an innate sepia-tone quality. This seems to help evoke the old-timey photograph appeal that people associate with early 20th century. Despite this, the colors throughout the film are rich and bold, and the cinematography is competent, if not conventional.
As the film is set in 1922 but postscripts in 1942, we can see the waning Victorian influence ceding the the inklings of the Roaring Twenties before jumping to the distinctly more casual aesthetic of Americana in the days before World War II. This provides a great opportunity for the costuming to shine, which it does, although Brooks' flapper is decidedly more stylized fantasy than its real historical counterparts.
If you would like to learn more about the real life and times of Louise Brooks or find select screenings from her body of work, please check out the Louise Brooks Society.